MonsterMax 1 was great. He earned millions of views with it but his signature ride couldn't just die off. It was time to rebuild. Months later, the hints of a new version were starting to come out. We would get sneak peeks of parts for the truck but nothing of what it would actually look like. Just a few hours ago we could finally see.
MonsterMax 2 is equipped with the largest agricultural tires ever made. Four Goodyear Farm LSW1400/30R46 tires made by Titan. WD wanted to go big and this is it. With a completely solid steel frame and over 1,000-pounds of welding wire involved, MonsterMax needs all the help it can get. Being partnered up with Dan's Diesel, it was inevitable that he would use a Duramax and one of their famous "Dominator" transmissions.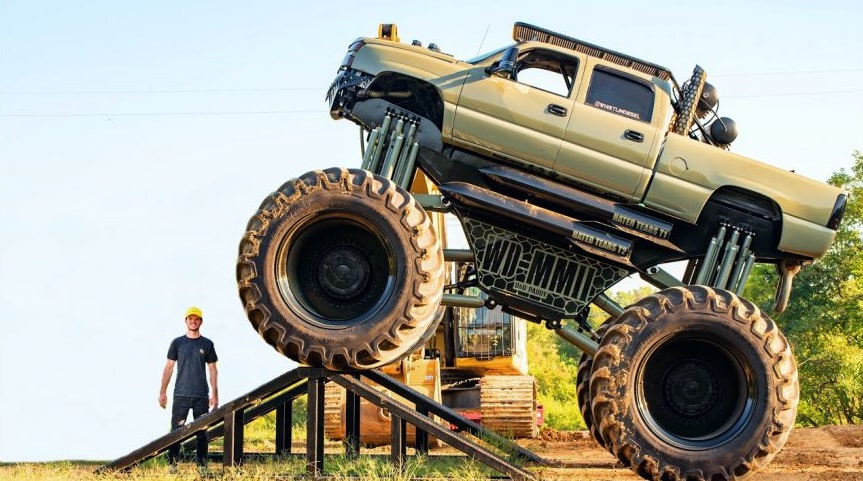 Is Monstermax 2 the World's Biggest Twin-Diesel Monster Truck?
You might know Cody Detwiler as @WhistlinDiesel on Instagram or for his increasingly popular YouTube channel, but did you know the 4×4 enthusiast was planning Monstermax 2? This could be the world's biggest and heaviest monster truck with two Duramax diesel engines.
If you got in on the ground floor, WhistlinDiesel gained popularity on Instagram with heavily edited images that garnered large amounts of attention from fellow truck enthusiasts. Stunts accompanied the edited images, and the @WhistlinDiesel social media outlets became a go-to for crazy off-road content.
One of @WhistlinDiesel's early works is pictured above. Photoshop? You be the judge.
Now, Detwiler has raised the bar (and his truck) with his latest project, Monstermax 2, an iteration of his first Duramax rig.
Monstermax 2 was built around its goliath clevis hook. Detwiler's first purchase for the monster truck (aside from its pair of axles) was the $5,000 clevis hook, said to be rated for 300,000 pounds.
Monstermax 2 runs some of the biggest agricultural tires available for purchase—the Goodyear OPTITRAC LSW 1400/30R46. LSW means Low Side Wall, and the tires are designed for extreme flotation over farm soils where compaction must be minimized. Each tire weighs over 1,500 pounds.
Both axles, together, weigh an estimated 26,000 pounds. The custom-built wheels are held to the axles with 36 lug nuts apiece. Detwiler was disappointed to hear the installer used only half of the 36 lug nuts to affix the wheels to his axles. Detwiler's thoughts: "That's too many." read blog